One of the perks of living in the Kansas City metro area is that we enjoy a cornucopia of wonderful Mexican restaurants. This selection has expanded in recent years with more restaurants featuring Central and South American dishes and cuisine. There are so many good Mexican restaurants, that if I ate and reviewed one per week, I might cover the top 50 within a year and have many others in the queue.
Dining Companion #1 and I have a running joke about our "Mexican restaurant rotation." This is a set of restaurants, mostly along Southwest Boulevard, that we like to patronize. We haven't dined at any of them together since the pandemic begun, but we hope to change that soon. In this issue I want to go over our rotation and explain what we like about each restaurant.
If you live in the Kansas City area and have never been to a Mexican restaurant along Southwest Boulevard, you are missing out on some of the best Mexican cuisine in the metro area. This strip of restaurants is easily accessible from Interstate 35 and local roads. Most of these places have plenty of free parking or free parking nearby.
Manny's
Manny's may be the most well-known restaurant on Southwest Boulevard among Kansas Citians. It certainly is very popular, even having multiple dining levels. The restaurant is located where the Boulevard starts heading west out of the Crossroads District.
Their menu is extensive and has options for just about any taste. But they are my least favorite on my rotation, at least in the menu department, because their vegetarian options are very traditional. Not many options. Their chips and salsa are good, they have a good chile relleno, a bunch of salads, but not much in the taco, enchilada or burrito formats.
I've eaten at Manny's many times over the past 15 years and have always had a top notch experience. The staff are always excellent. The food is always prompt and done well. This is all impressive given how many people they serve during a busy night, especially First Fridays. Some people may like a more intimate dinner experience, but I've always loved the bustling energy of Manny's.
Manny's also offers private dining for parties of 25 or more in their three upstairs dining rooms.
Margarita's Amigos
Margarita's Amigos is one of my favorite restaurants in Kansas City, partially because of the foo and atmosphere, but also because I have so many memories of having meals here with friends. The restaurant has several locations around Kansas City, including one in Martin City, but I love their location on the Boulevard. This location was remodeled several years ago, so it' is a bright, high energy place to have food with family, friends, co-workers, or by yourself.
What do I like about Margarita's? Their chips and salsa for starters. I love fresh chips and salsa at Mexican restaurants. Even more than the main meal. When I was on a hardcore diet several years ago, the thing I missed the most was a basket (or three) of fresh restaurant tortilla chips and salsa. Margarita's does this well.
Margarita's has a bunch of excellent vegetarian options, including a chile relleno platter, but I want to highlight their spinach quesadillas and their puffy tacos with potato filling. I talk elsewhere here about how hard it is to find good spinach enchiladas, but Margarita's has a good twist with their spinach quesadillas. The potato tacos are great.
Dining companion #1 says "I like their fried original tacos and fried corn tortillas. Chicken tacos are my favorite they also have potato tacos. I really also like their pork tamale.
Our youth review crew are big fans of Margarita's, to the point where they have requested a birthday dinner there for several birthdays.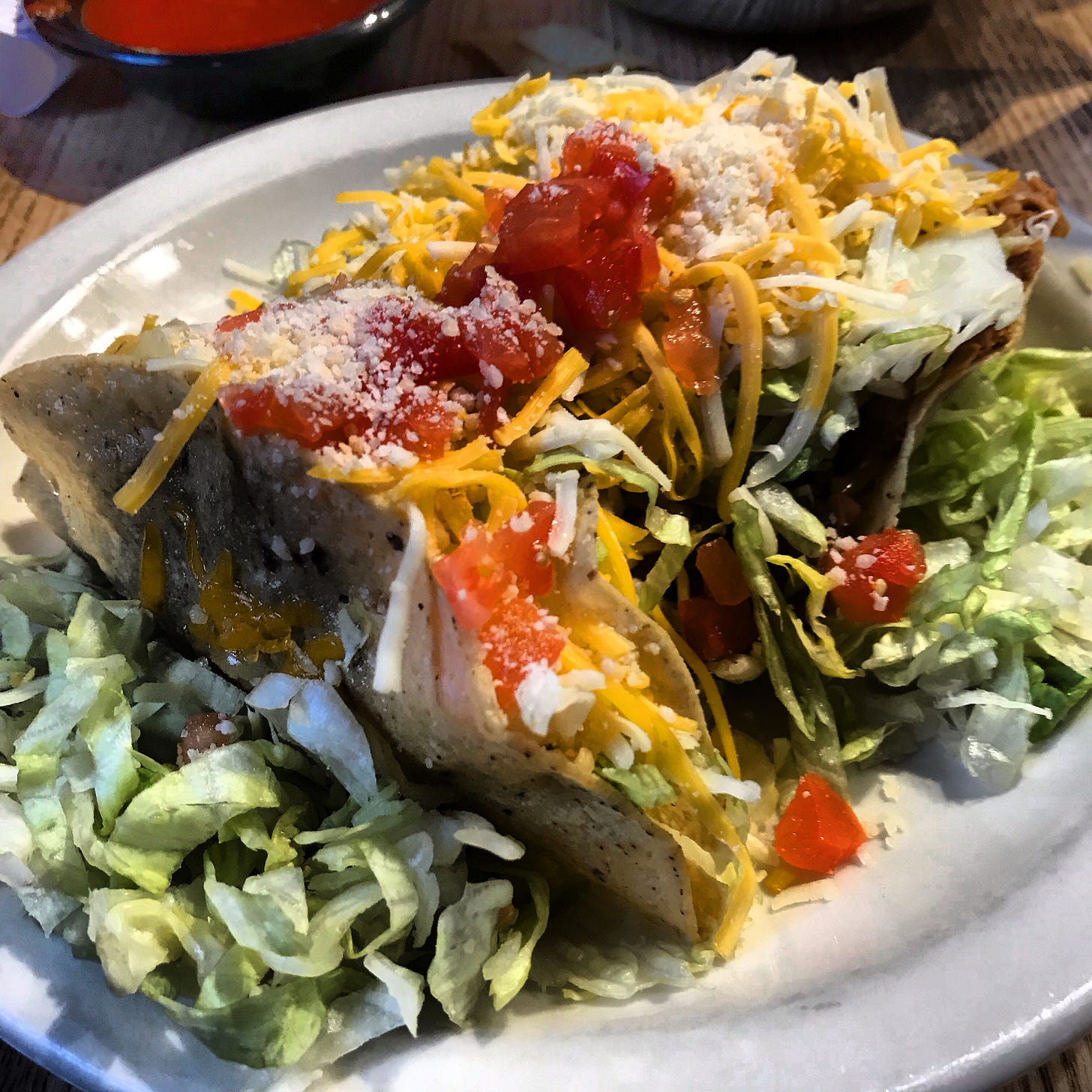 Ponak's Mexican Kitchen
Ponak's Mexican Kitchen has been a destination for thirsty and hungry Kansas Citians since 1975. If you asked somebody in Kansas City, "Where is a great place to get margaritas and tacos," they'll most likely say "Ponak's."
Ponak's is hugely known for their margaritas. While it's been quite a few years since I've drank any alcohol, I remember their margaritas as being pretty awesome. Otherwise, Ponak's is a great place to take the family to get tacos. Ponak's are rock stars with their guacamole. When I eat here, I'll get some guacamole tacos, guac tostadas, and guac with chips. The menu has lots of other good options for vegetarians.
Dining companion #1 is a huge fan on Ponak's: "I like to get the taco Sonora which is a shredded beef taco in a fried flour tortilla and I like to get the guacamole enchilada."
El Patron
If I'm going to have a "fancier" Mexican dinner along the Boulevard, El Patron is going to come to mind right away. Located on the bend of Southwest Boulevard, near the I-35 bridge crossing over, El Patron offers two levels of dining and an outdoor deck with a view. From what I recall, I think I've had their Enchilada's Montadas (three cheese enchiladas with salsa verde and eggs), chille relleno, and their tostadas. Their Ensalada Nopalitos is a great salad alternative for vegetarians looking for something different. If you really love meat dishes, El Patron has a big selection of innovative con carne dishes.
Taqueria Mexico #4
At the corner of Rainbow Boulevard and Southwest Boulevard, you'll find Taqueria Mexico #4. The popular Mexican restaurant has a large outdoor patio, big dining room suitable for families and large parties, and extensive bar. Lots of parking and near KU Med Center and an Interstate 35 exit.
Their menu is extensive, so if you need a Mexican option with menu variety for your dining companions, you are in good hands here. I'd say that their specialties are the large seafood dish selection, their fajitas, and their molcajetes.
Along with Los Tules, Taqueria Mexico #4 has one of the best spinach enchilada platters in town. I also like their chile relleno, chips and salsa, and tacos. Mostly, I just love their atmosphere and big menu.
Dining companion #1: "I like to get fish soup (caldo de pescado) and grilled nopales."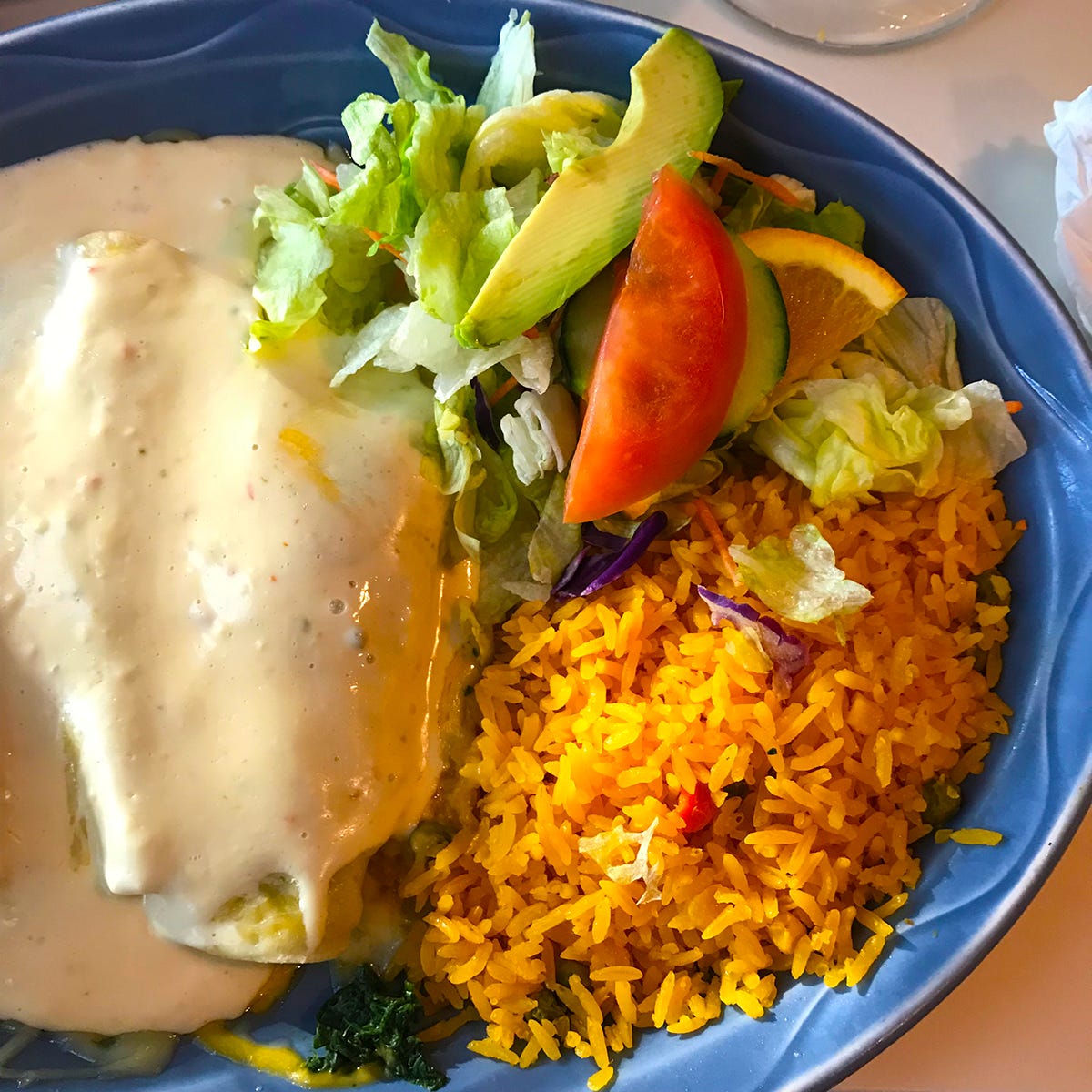 Los Tules Restaurant
Los Tules can easily be found as it is across the street from the Kauffman Center for the Performing Arts. While not on the Boulevard, it is about 5 blocks north of Manny's, so we consider it part of our "Mexican restaurant rotation." Despite being close to downtown, the convention center, and the Kauffman Center, parking is pretty easy to find.
Of special note when it comes to their menu, Los Tules does a spinach enchilada platter that may be the best in Kansas City. It's hard to find this vegetarian option, so I want to highlight it. When I visit Los Tules, after their enchiladas, I may have the veggie burrito, the guacamole enchiladas, or the chile relleno. My friends like the carnitas platter, the Molcajete Tradicional, and the fish dishes.
Rudy's Tenampa
Rudy's Tenampa is not technically on Southwest Boulevard (it's located on Westport Road), but it is close enough to be part of our Boulevard rotation when we are driving around, decided on which Mexican restaurant to dine at. I love the food and staff at Rudy's, so much that I've already written a review for the website (link below). It's a big favorite of Dining Companion #1 and our Youth Review Crew. Rudy's is the most vegetarian friendly restaurant in our rotation. Great chips and salsa and dips. Best veggie taco salad in town. Great place for a family dinner or small birthday party.
Dining companion #1 "I enjoy the chile relleno burrito and I like their nopales salad. Their Fideo and rice are good too. Of course, their chicken and fish tacos which are in deep fried flour tortillas. And Rudy's has a good vegetarian menu too."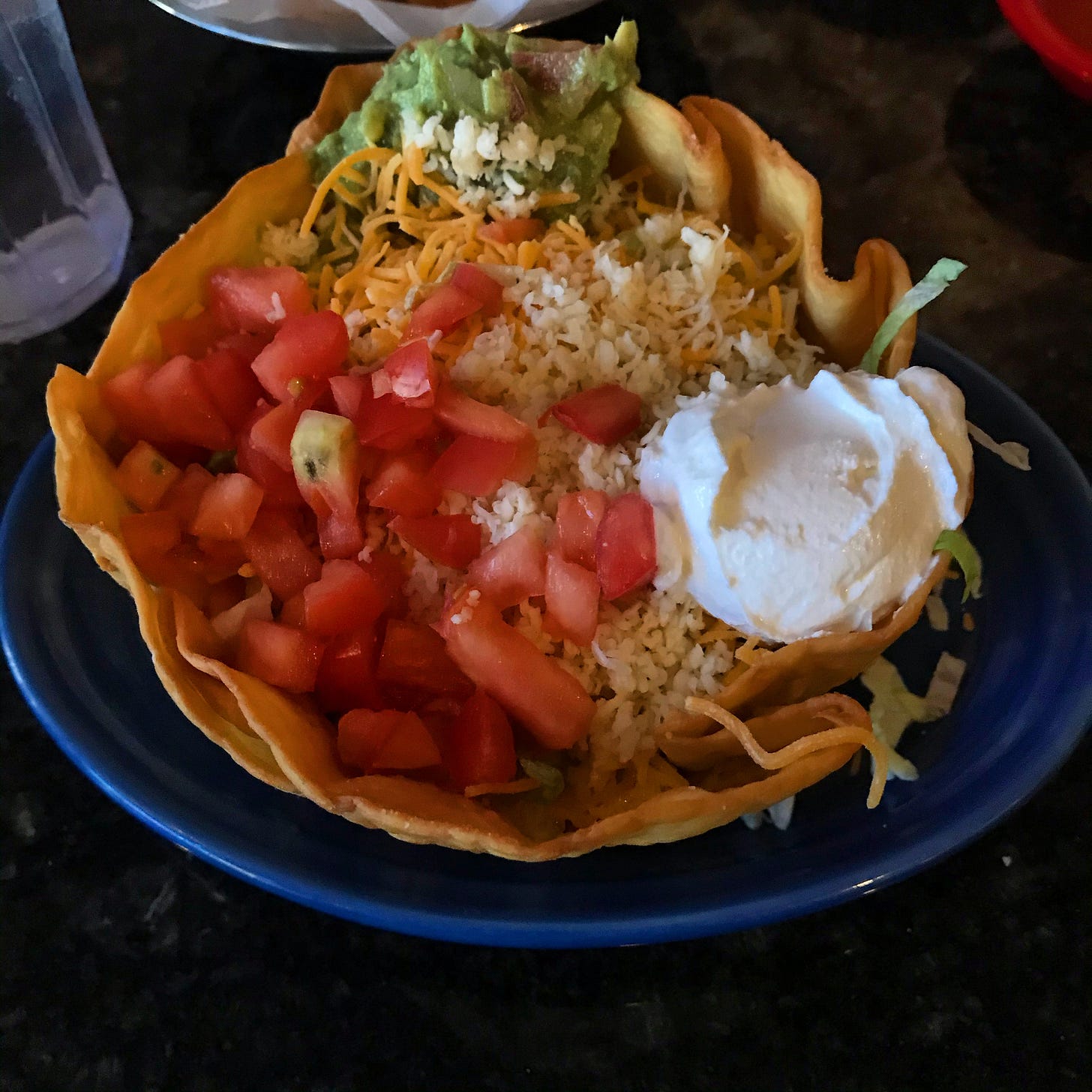 Youth Review Crew Ratings
I asked members of our youth review crew to share what their favorite dishes are from these restaurants and to rank their top three places. One of the kids shared that they really liked the fish tacos at Rudy's and ranked their favorites as: 1) Rudy's; 2) Ponak's; 3) Margarita's Amigos. The other kid reviewer shared that they really loved the Mexican chili at these restaurants, especially the versions at Manny's and Los Tules. Their top three restaurants are: Rudy's, Los Tules, and Manny's.
Other Boulevard Favorites
These restaurants aren't part of our large rotation, but we dine at them and highly recommend them. And there are other Mexican restaurants along the Boulevard that we just haven't tried yet. This summer, we promise!
Taqueria Mexico #1
The sister restaurant to Taqueria Mexico #4. Pretty much the same menu. Not as big, but close to downtown KCMO.
Empanada Madness
Dining Companion #1 and I love this place. I'll be publishing a full review soon. Not featured about because the restaurant is technically South American, not Mexican.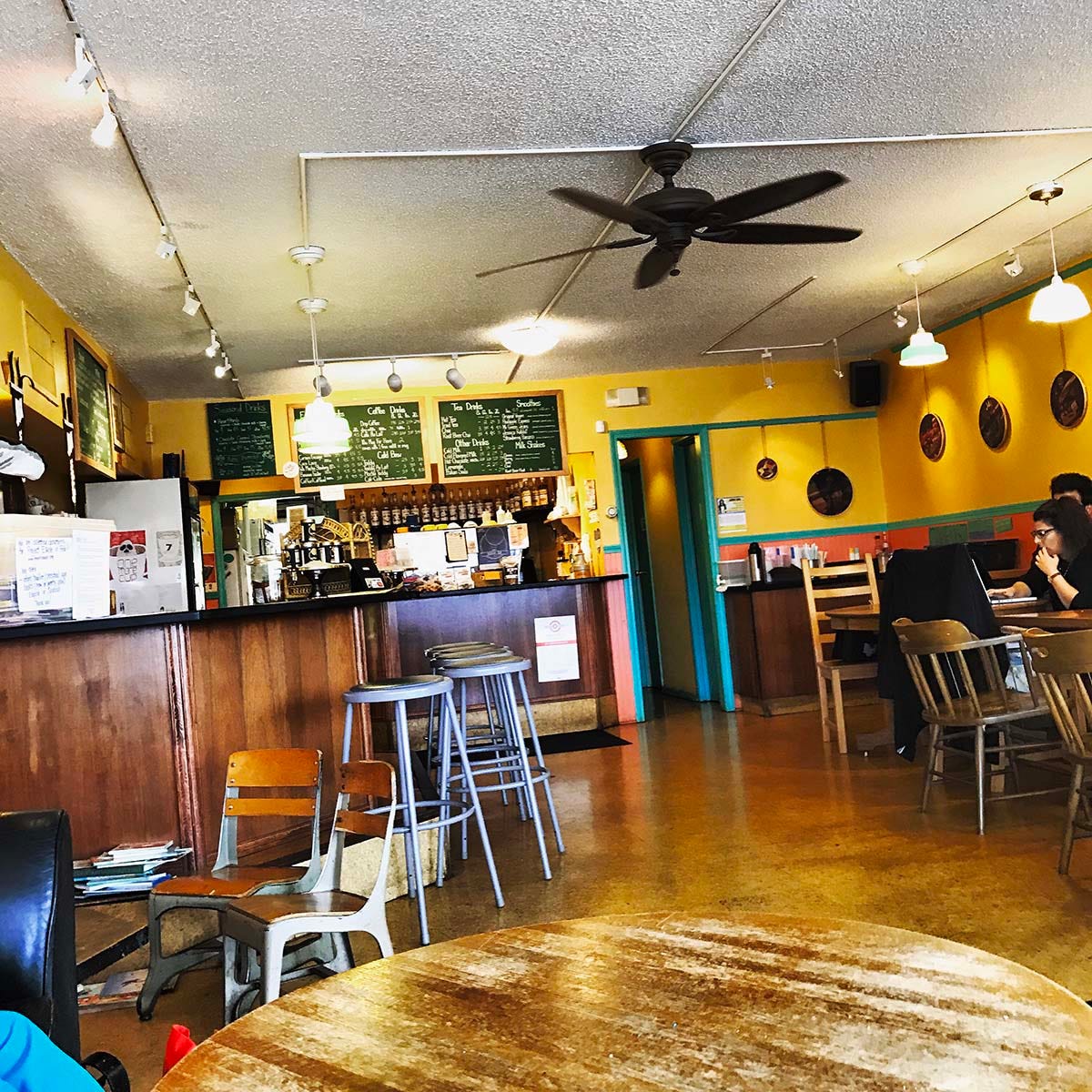 Ricos Tacos Lupe
A classic taco restaurant. Tacos are very affordable. I really like their Veggie Taco, which has black beans and guacamole. Several years ago they had a delicious tofu taco. It's hard to find tofu as an option at Mexican restaurants.