Do you have a dish that you order every time you go to specific restaurant? Do you have a favorite style of dish whenever you go to a certain style of restaurant? Even when the restaurant has dozens of dishes that you'd really like to try? Are you the type of diner who loves trying new things, but you have the default comfort order?
For me, that dish is black beans tofu and more generally, tofu dishes at Asian restaurants. Black beans tofu (aka Tofu with Black Bean Sauce), as well as meat versions, always includes a black bean sauce, onions or scallions, and some type of pepper (often green bell peppers). The tofu version includes cubes of extra firm tofu. Some versions include broccoli and carrots. Black beans tofu is a dish that comes across as savory with spiciness. It could also be described as having earthy and umami notes.
Why am I such a tofu fanatic? I became a vegetarian in 1989 and I describe myself as a "tofu vegetarian" in recognition of the era that I tried the vegetarian diet and lifestyle for the first time. In 1989, tofu was the most popular protein and main dish ingredient for vegetarians. This was before the era of veggie burgers and meat analogs like "crumbles" and vegetarian sausages. Vegetarians ate veggie burgers, but they were usually made from scratch.
I'm pretty sure I first discovered the dish at a take-out Chinese restaurant that used to be two blocks north of Dupont Circle in Washington, DC. I've forgotten the name of the restaurant. Still me favorite take on black beans tofu. Their version had the perfect sauce, good tofu and big chunks of onion and green bell pepper. At one point, especially when I worked in downtown D.C., I'd eat there at least once a week. I would often take the Metro subway to Dupont Circle, get some black beans tofu and read a book or magazine, and afterwards visit Kramers bookstore and other stuff around that neighborhood.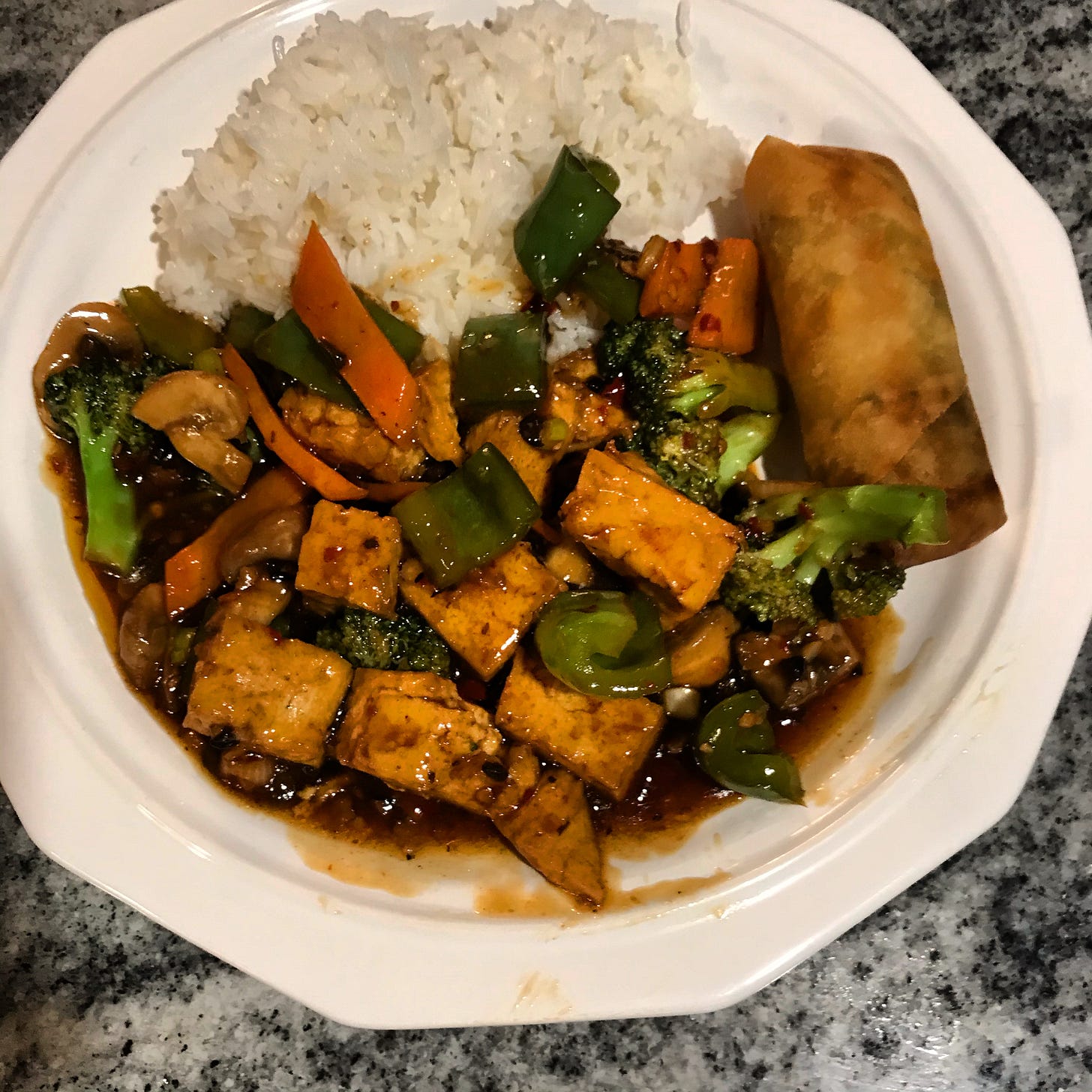 I developed such a love for the dish that finding a restaurant close to where I lived turned into a regular quest. When I lived in Arlington, Virginia, I found a neighborhood restaurant called Eastern (which is still open) that featured Chinese take out, fried chicken, and chicken wings. By this point I had learned the Chinese words for the dish, as the front counter staff would yell it back to the kitchen. I was such a regular and always ordered this dish, that the front of the house staff would yell the order back to the kitchen as soon as they recognized me coming in the front door.
When I moved back to Kansas City in the mid 00s, the search was on for black beans tofu. Eventually I discovered Dragon Dynasty on State Line Road in South Leawood. Rosemary and her family ran a nice, popular sit-down restaurant that featured my favorite Asian dish. Rosemary has always been one of those warm, friendly restaurant owners who takes the time to chat with you and your companions. My preference for black beans tofu became a joke between us, but one time I entered the restaurant and she said "Black Beans Tofu?" and started ringing up my order. That day I was in the mood to try something else. I laughed, mentioned another dish, and she kidded my about venturing outside of my comfort zone.
Dragon Dynasty closed around a decade ago and Rosemary opened a new restaurant in Raytown called The Blue Yuu (now closed). My favorite dish at the Blue Yuu was their take on Korean bibimbap.
Another favorite source for black beans tofu, and fast Chinese food in general, is Kin Lin near UMKC. I've eaten at Kin Lin dozens of times over the past decade and a half. Their black beans tofu is top notch, as are most of their other entrees. See my review for more about Kin Lin.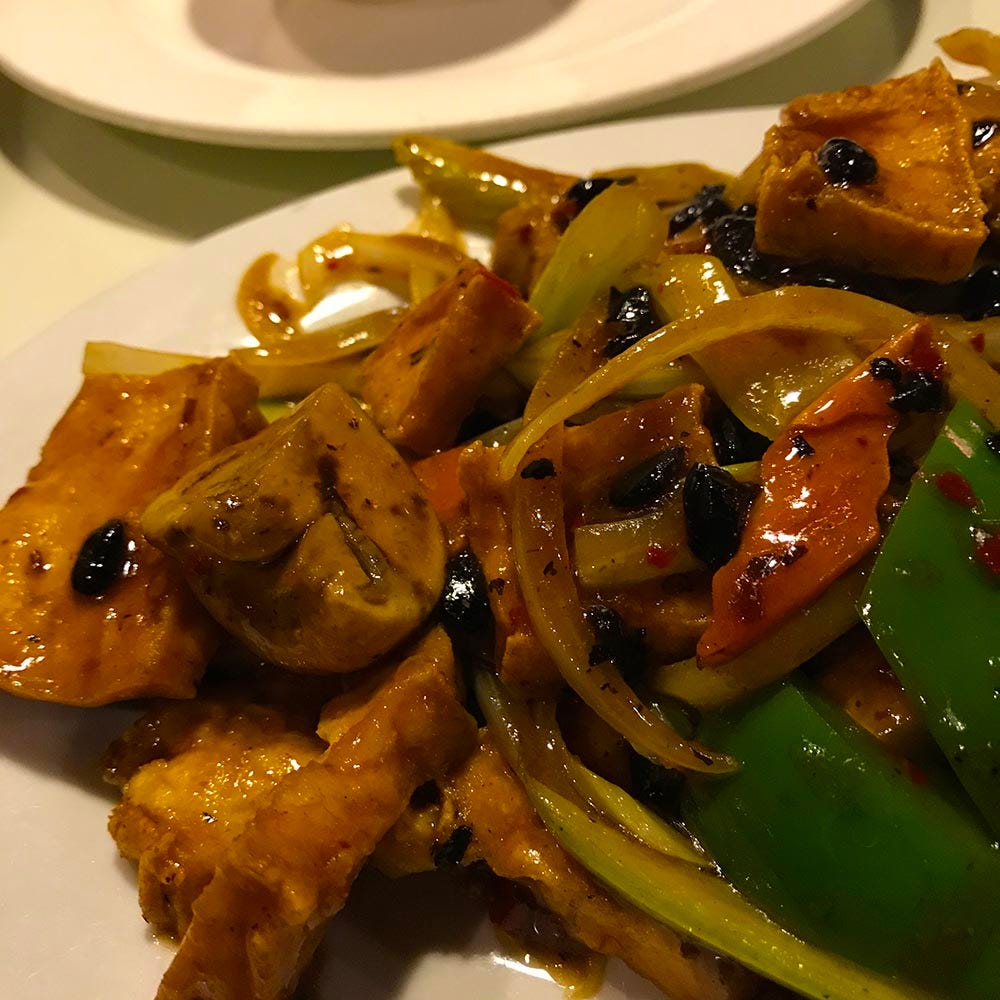 The black beans with protein format is often available with meats. I was long curious about this, so when I started eating seafood (rarely) several years ago, I decided to try it with fish. I had a delicious orange roughy with black beans sauce at some restaurant in Kansas City. Don't recall which restaurant, but I can see how black bean sauce highlights other proteins.
If you aren't familiar with this style of Asian entree, give it a try!